Paintings of Albert Neff Smith
(1935- )
Albert N. Smith is a Utah artist who specializes in works in acrylic. An accomplished caterer, he is Chief Baker at the Lion House Reception Center in Salt Lake City, Utah.
---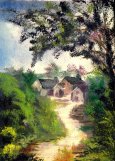 The Storton Family Home
Harlestone, Northamptonshire, England
Ken Allen Collection
(16" X 20" Acrylic)

.

.

.

.


Collection of Doug and Machele Smith Carbine and Children
(18" x 24" Acrylic)
Updated 29 July 2000
(c) 2000 by Ken Allen
ken@kenallen.org