Ken Allen

<![if !vml]>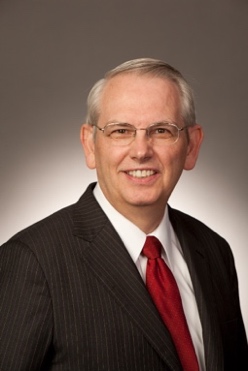 <![endif]>
<![if !supportLineBreakNewLine]>
<![endif]>

Ken Allen of Palo Alto, California, practiced patent law in Silicon Valley beginning in 1975, recently as Senior Counsel at Kilpatrick Townsend and Stockton LLP and for nearly three decades as partner with its predecessor firm Townsend and Townsend and Crew. He graduated from Northeastern University School of Law in 1975 and studied patent law at Harvard Law School. He has a Master's Degree in Electrical Engineering with emphasis in Applied Physics from MIT (1972) and a BSEE Degree from Brigham Young University (1971). He is licensed to practice in the State of California, in the U.S. Federal Courts and before the United States Supreme Court. At Kilpatrick Townsend and its predecessor, he was widely recognized as an expert in patent prosecution for startups in a wide range of telecommunication, laser and computer fields. Following retirement from full-time, active law practice, he and his wife Sue have served three missions for The Church of Jesus Christ of Latter-day Saints: Hamburg, Germany (2005-06); St. Petersburg, Russia (2017-19); and Durban, South Africa (2020-22), but he continues to consult for his firm.
Ken has been an invited speaker at the India IPR Summit in Mumbai and the CISIS Software Conference in Dalian, China, as well as the U.S/ Canada Licensing Executive Society Conference and the EPPIC Global Conference. He has also been a guest lecturer at the Chinese University of Hong Kong, the IEEE Professional Communications Society, Conference; the World Intellectual Property Law Association, Tokyo; Stanford University Graduate School of Business; Brigham Young University and Santa Clara University School of Law.
Ken served as President of the Peninsula Patent Law Association, on the Board of the Silicon Valley Chapter of the J. Reuben Clark Law Society and as President of the Adobe Meadow Neighborhood Association. He is a founding Board Member of the International Organization for Peace, an initiative of Muslims, Jews and Christian promoting dialogue on the challenges of the Middle East.  
Since 1991 he has made community-interest videos for cable television and his YouTube channel. As an officer of Cable Co-op of Palo Alto, he oversaw the distribution of more than $4 million in community gifts after the sale of the company to AT&T (now Comcast). As an amateur actor, he played Harry MacAfee in "Bye, Bye Birdie" newspaper editor Charles Webb in Thornton Wilder's "Our Town," and Marley the Ghost in "Scrooge."
He has written, edited and helped translate source texts for a book on Swiss family history, and he has published journal articles as diverse as patents and the history of western pioneers. He has written historical fiction as well as nonfiction on various topics in both English and German. An expert in emergency preparedness, he has been a licensed amateur radio operator for over 60 years and volunteers in disaster communications. 
His extraordinary wife Sue and five remarkable children all love him but generally ignore his advice.
Career: Patent attorney at Kilpatrick Townsend and Stockton LLP formerly Townsend and Townsend and Crew LLP
 Further background on Ken Allen
<![if !supportLineBreakNewLine]>
<![endif]>
Contact ken@kenallen.org
Collected essays, articles and artwork from Ken Allen
Career: Patent attorney at Kilpatrick Townsend and Stockton LLP formerly Townsend and Townsend and Crew LLP